The Wizards School of Magic
Attention – Recreation, Library and School Enrichment Directors!
"Discover How My Popular Wizards School of Magic Program Will Give YOUR Kids a New Skill That Will Last a Lifetime – AND Have a Ton of Fun While They're Learning!"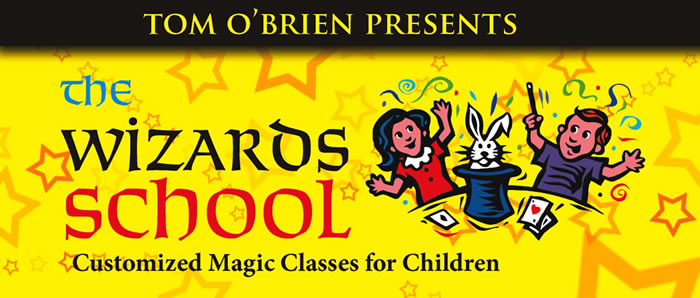 Learn More About Our Wizard School Contact Tom to Sign Up Today
Are you tired of searching for an engaging event for the children you work with?  Have you booked programs that kids weren't interested in, didn't want to come to, and felt like their time was wasted?  If you're looking for a program that engages children of all ages, that fosters enthusiasm and creativity, that has your kids excited to participate, then look no further!
"I have worked with dozens of entertainers throughout the years and Tom is one of the best! He is professional, entertaining, and a real hit with children and parents alike." – Brookfield, CT Recreation
"The Wizards School of Magic" program, offered by Tom O'Brien, is a program that children of any age will enjoy!  Whether you are looking for a program for a daycare, summer camp, or school event, there is something for everyone.  Tom has twenty years of experience working with kids and teaching them magic.  The popularity of his workshops is so great; he now offers four different programs!  The kids are full participants; each child will learn magic tricks and get to take home their very own magic kit.
"Tom O'Brien has performed Magic for our summer camp programs and has done quite a few workshops and shows for our after school programs in the last few years. He is always reliable and entertaining and has held the children's interest throughout." – Redding Park and Recreation Department
Each program offers full engagement for both participants and adult audience members.  This is not your average magic show!  Instead of simply viewing the magic tricks being performed, kids learn how to do it themselves.  Every child is engaged and the enthusiasm is palpable!
"Tom is a favorite here for all the children and they really look forward to him coming to entertain them. He has the ability to amuse and appeal to all the children, no matter what their age or background. His humor is truly appropriate and the look on their faces is priceless. Later after he is gone, the children amuse themselves by performing the magic tricks that were taught at the workshop." – New England Preschool Academy"
For more information, contact Tom today!  Your satisfaction is guaranteed.  With no hard sales pitch, relax and get all of your questions answered in detail.  With a limited number of workshops offered per month, dates are booked quickly. Don't miss out on a great experience for the children you work with.
Call now or go to the contact page and book an appointment for "The Wizards School of Magic!"
Learn More About Our Wizard School Contact Tom to Sign Up Today
"Tom O'Brien Magic was loved by our summer campers. He got everyone involved and was engaged with his 'Mini Magic Classes' and Tom was great to work with!"  – Bristol, CT Recreation Dept.